Food Finds – Fieldhouse, Flagstaff AZ
Working in the fishing industry, my travels almost always take me southeast which means I've become accustomed to enjoying some seriously good southern cooking. Fried okra and gumbo? Yes, please. Chicken fried steak with mashed potatoes and gravy? Yes, please. Nashville hot fried chicken and buttered corn on the cob? I'll take a second helping, thank you.
Southern cooking is about more than the glorious comfort-food factor it provides, it smacks of a simple yet genuine way of living life. Comforting? Yes, but it's also fortifying. Perhaps it's why a good friend of mine cannot pass up a Cracker Barrel on the road if it's breakfast-time. Lunch is never guaranteed in his line of work, but a hearty stick-to-your-ribs breakfast at Cracker Barrel will always tide the man over 'til dinner.
Several weeks ago, after being home from travels for nearly a month, I got a bit stir-crazy and decided to take a weekend get-away down in Flagstaff. I was looking forward to visiting Proper Meats + Provisions, a "boutique butchery" that I'll be talking about next on the blog, but they were not quite ready to open that weekend.
Nuts.
There is much to do in Flagstaff, though, and I'd just caught wind of a potential food-find called Field House, so I packed up the pups and an overnight bag and headed south for the pines. After dropping the pups off at doggie daycare (they love it, don't scoff!) I pointed the car in the direction of Field House, intent on enjoying some chicken and waffles.
Field House had big shoes to fill – I'd tasted my fair share of chicken and waffles throughout the south, but I kept an open mind as I walked into the cheery restaurant packed with weekend brunch-goers. Field House isn't the first spot in Flag to offer southern cooking, yet they were the first place I'd personally heard of. The newly-opened restaurant joins current slingers of southern staples like Lola's Hot Kitchen and Louie's Chicken Shack – I've tried neither, but they're definitely on my list as we head into fall – I've simply GOT to fill out my sweaters.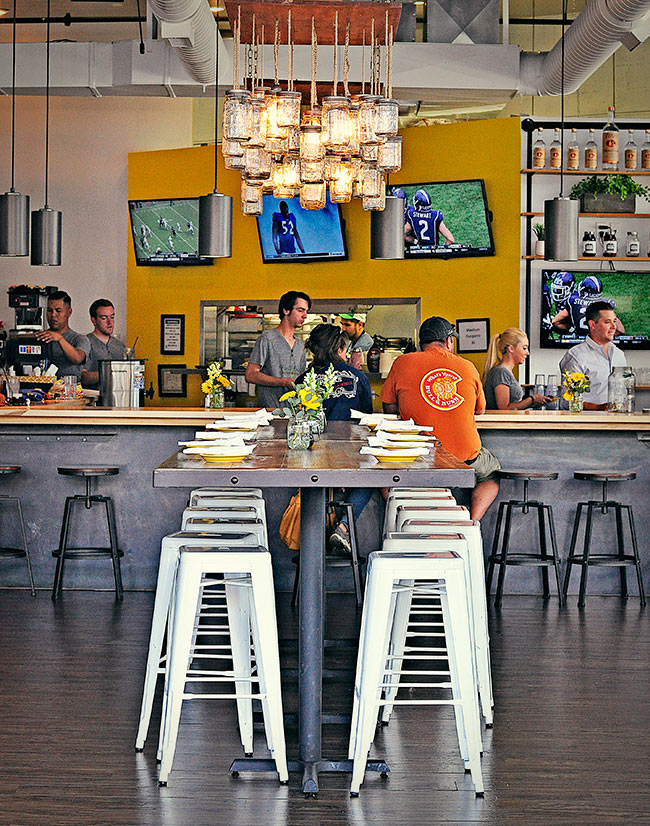 Their C&W menu is impressive; you can view them all here. Standouts for me were the hefty Bosco: one each thigh, leg, wing, breast + waffle, and the loaded Taverna (named after their sister restaurant, the Taverna Greek Grill which is just across the way) which features one breast and wing, Kalamata olives, a sunny side up egg, tomato, feta cheese, spinach and (gasp!) housemade tzatziki sauce with a drizzle of olive oil.
There's more – nine types to choose from, in fact, and you can get your chicken on the bone (recommended for the gnaw factor) or as boneless tenders. I settled in to the My Boy Blue – a waffle with two chunky breast tenders fried crisp topped then smothered with fresh blueberries, blue cheese, and fresh blueberry syrup. Like it spicy? They'll gladly bring you samples of every type of hot sauce imaginable.
As I grazed, I glanced over the extremely thorough menu and quickly realized I would simply have to come back for lunch (and possibly dinner?) to try out the additional modern twists to traditional southern dishes. In addition to the C&W and the hefty breakfast menu, the To-Mac burger (fried green tomatoes + mac 'n cheese + burger) and the NO-LA Gumbo (shrimp, Andouille sausage, red beans and rice) were calling my name. And where on earth, I wondered, was I supposed to fit in the MishMashHash (pulled pork, potatoes, red onion, bell pepper, fried egg all served atop a griddled corn cake, so help me god)?
Seriously, stop what you're doing and go read over the menu.
I popped back in at lunch excited to sample their Pork Belly Steam Buns (tender, crisp pork belly, pickled red onion, spicy tomato jam, sweet roll) to discover it was not currently available and might not return to the menu. Chris Brickey, Field House's General Manager explained, "We're a bit bummed about it – pork belly is really popular in a lot of places and we figured it would go over well in Flagstaff as well, but it's just not moving." All pork belly aficionados know making pork belly is not a quick process – there's quite a few man-hours required to brine and slow-roast the belly, so it makes sense it would only be worth it if there was a decent demand for it. This is your loss, Flag – get with the program so Chris can bring back the Pork Belly Buns! David Chang would want you to …
Regardless of the loss of the Pork Belly Buns, Field House offers an incredibly well-rounded menu you'd be hard-pressed to be disappointed in. It's a fantastic place to hang out and enjoy not only the delicious food and unique cocktails, but you can catch the game on their big-screen televisions and even bring your pup and sit out on the patio if you'd like.
This is the kind of place you can enjoy taking your time to get to know properly. I'm guessing it will take you half a year to get through the menu, unless you plan on going daily.
If I lived in Flag, I just might.